Allegis Global Solutions (AGS), a leading provider of global talent acquisition and workforce solutions, has been named a Leader in Everest Group's 2018 Managed Service Provider (MSP) Landscape with PEAK Matrix™Assessment for Asia Pacific. Leader is the report's highest designation; AGS was one of only two providers named a leader out of the 12 providers tracked. Notably, AGS was positioned highest in the "delivery capability" category, speaking to the firm's delivery footprint, buyer satisfaction and technology capability.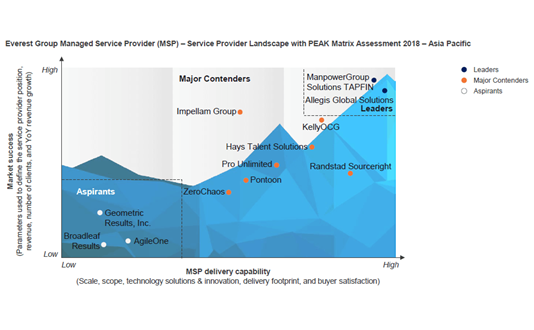 "Our partnership approach with clients and our commitment to innovation have allowed us to make remarkable strides in growing our service offerings and client base in the Asia Pacific region," said AGS Executive Director of MSP APAC Justin McAvoy. "This distinction from Everest Group demonstrates that growth. We look forward to expanding our regional footprint in 2018."
Everest Group cited multiple strengths in its assessment of AGS, including:
More than $2 billion in regional managed spend and service across almost all major countries in APAC makes AGS one of the biggest players in-region;
Strong focus on innovation and market-leading investments in the contingent workforce management space;
ACUMEN, its proprietary analytics tool, enables AGS to offer critical insights and peer benchmarking to clients;
A recent partnership with Brightfield Strategies allows AGS to provide breakthrough predictive analytics insights to clients; and,
A strong delivery presence with multiple delivery centers spread across India, Australia and Singapore, enable AGS to provide significant value to its MSP customers.
"As the MSP market in the Asia Pacific region continues to evolve and grow, Allegis Global Solutions has an early mover advantage," said Arkadev Basak, Practice Director at Everest Group. "A wide footprint and a strong focus on digital innovation places AGS well in terms of catering to the diverse needs of MSP clients in the region."
Everest Group collected proprietary data from 12 MSP Asia Pacific service providers, including more than 600 MSP deals, the operational capabilities of each provider, and buyer surveys and interactions. Everest Group defines MSP as the transfer of ownership of all or part of the management of an organization's contingent/temporary staffing activities on an ongoing basis.
For more information on Allegis Global Solutions and its industry-leading services, visit www.allegisglobalsolutions.com and follow @AllegisGlobal on Twitter.