Allegis Global Solutions (AGS), a leading provider of global talent acquisition and workforce solutions, has announced a complete list of strategic partnerships for 2019. Strategic partnerships at AGS fall into one of two categories:
Global Partners are firms that have demonstrated top performance across programs in every region AGS operates full-service MSP.
Regional Partners are firms that have demonstrated top performance in one indicated region.
Allegis Global Solutions used interactive enterprise workforce intelligence platform ACUMEN — designed to enable clients, suppliers and program leaders to monitor key performance indicators — to gather data and analyze performance criteria.
Partners were selected based on three core criteria:
Impact: A supplier's response rate to distributed requisitions, starts and total assignments.
Performance: Successful placements (quality of hire), start-to-submittal time and ratio, and bill rate management compliance.
Partnership: Surveys conducted with internal AGS teams on how easy or challenging a supplier can be to work with on a day-to-day basis.
Key Statistics of the 2019 Strategic Partnership Program:
Suppliers in the program represent 1 percent of AGS' total global supply chain.
The Strategic Partner Program has expanded in the EMEA and APAC regions in 2019, adding 10 new suppliers across those regions.
28 percent of the 2019 Strategic Partners are participating in the program for the first time.
48 percent of the Strategic Partners in North America are diversity certified organizations.
AGS 2019 Global and Multi-Regional Partners: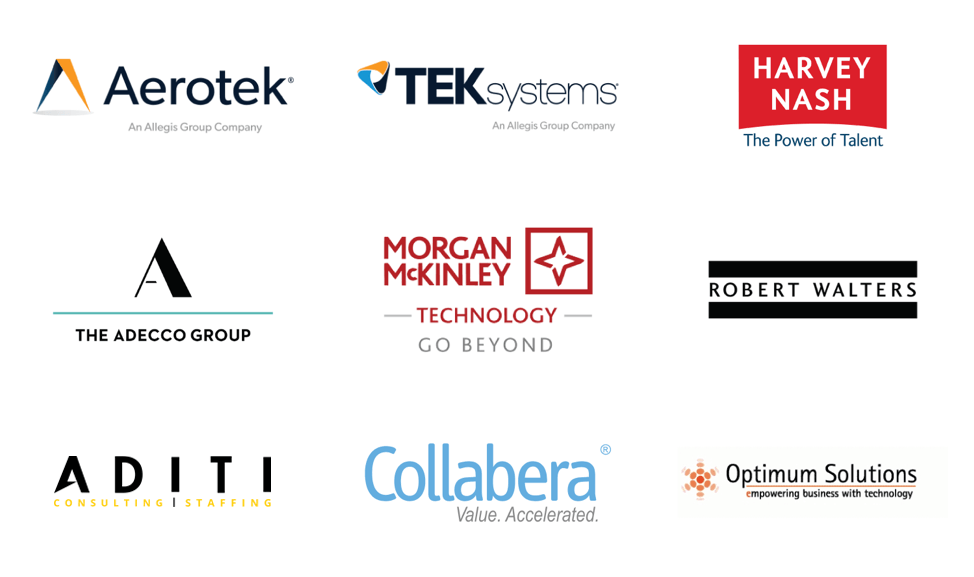 Regional Partners in North America: Aditi Staffing*, Aerotek, Apex Systems, Aquent*, Collabera, CompuGain*, Creative Circle, Donatech*, Eagle, Epitec, Harvey Nash, ICONMA, Insight Global, Kelly Mitchell Group*, Kelly Services, Kforce, Latitude 36, Mitchell Martin, Populus Group*, Procom, Rose International*, S.i. Systems, Spectraforce Technologies*, Swoon Staffing*, Talascend SL*, Talentburst*, TEKsystems, The Ascent Services Group and US Tech Solutions*.
* Indicates MWBE diversity certification.
Regional Partners in EMEA: Adecco Group, Aerotek, Aston Carter, CXC Global EMEA UK Ltd., Harvey Nash, iKas International Ltd., Love Success, Morgan McKinley, Outsource, Randstad, Robert Half, Robert Walters, Sigmar Recruitment Consultants, TEKsystems and Volt.
Regional Partners in India: Aditi Staffing, Collabera, HCL Technologies Ltd., Optimum Solutions, TEKsystems and Zensar.
Regional Partners in APAC: Adecco Group, Morgan McKinley, Optimum Solutions, Robert Walters and Allegis Group OpCos.
Congratulations to our 2019 AGS Strategic Partners! For more information on Allegis Global Solutions and its industry-leading services, visit www.allegisglobalsolutions.com or follow @AllegisGlobal on Twitter.